Last January I was lucky enough to get my hands on a second-hand TJ07 and some water cooling gear. The first owner had setup up a dual loop system, which I kept with only aesthetic changes until yesterday, when I started work on this project.
First I'll show you what I'm starting from.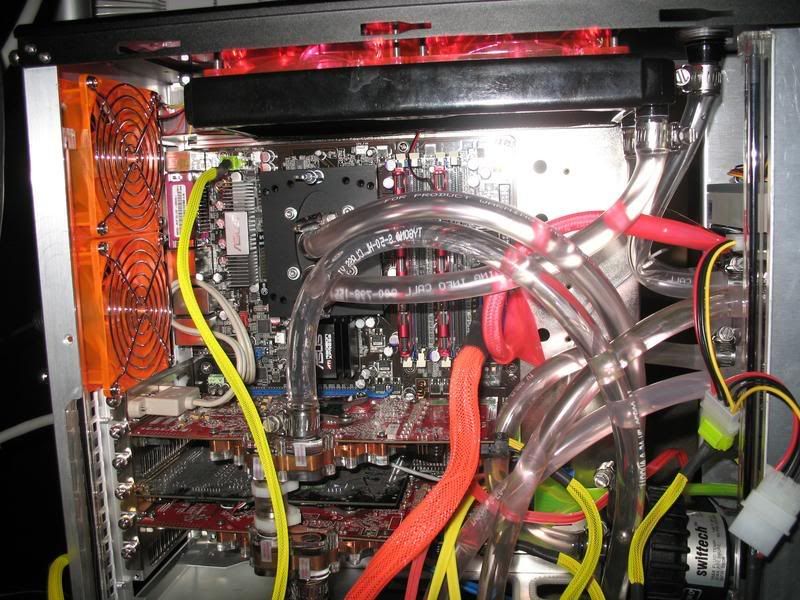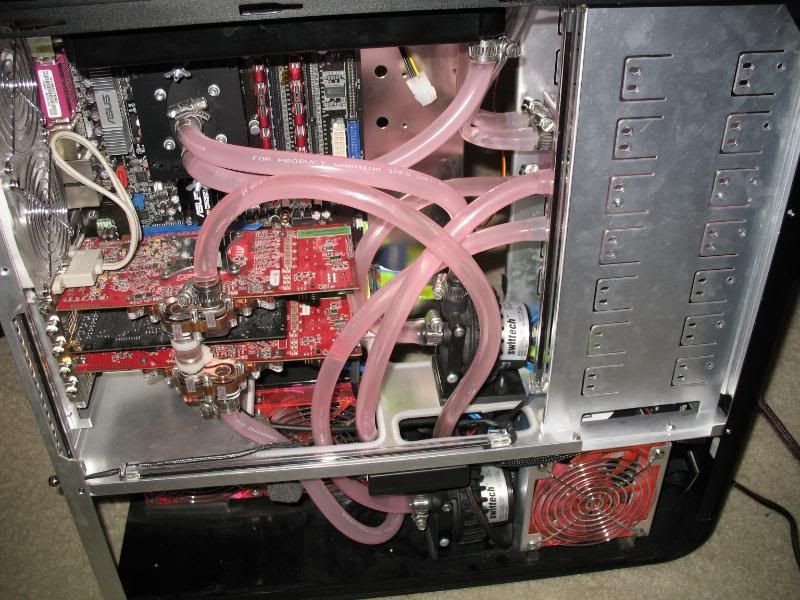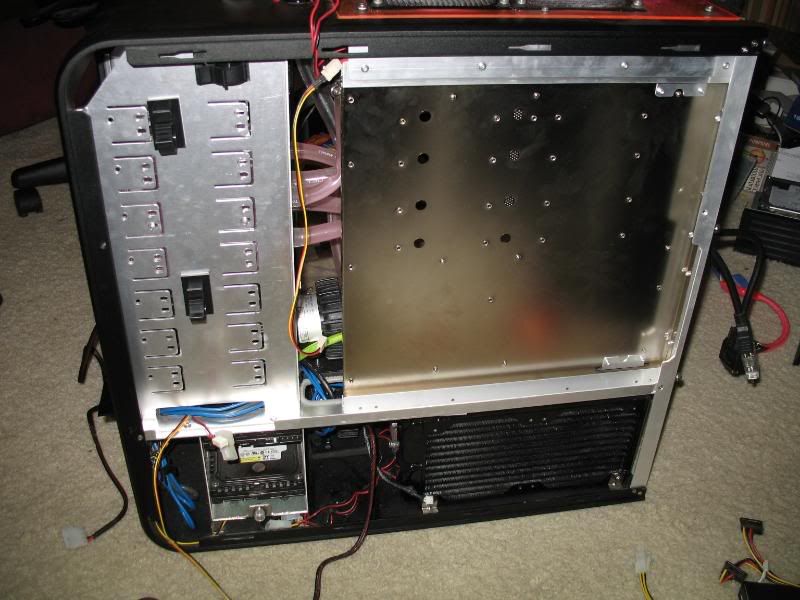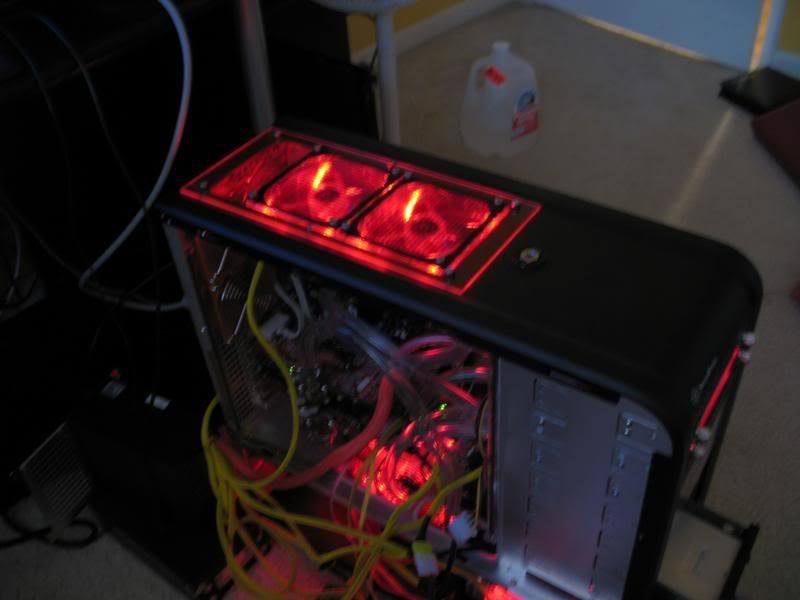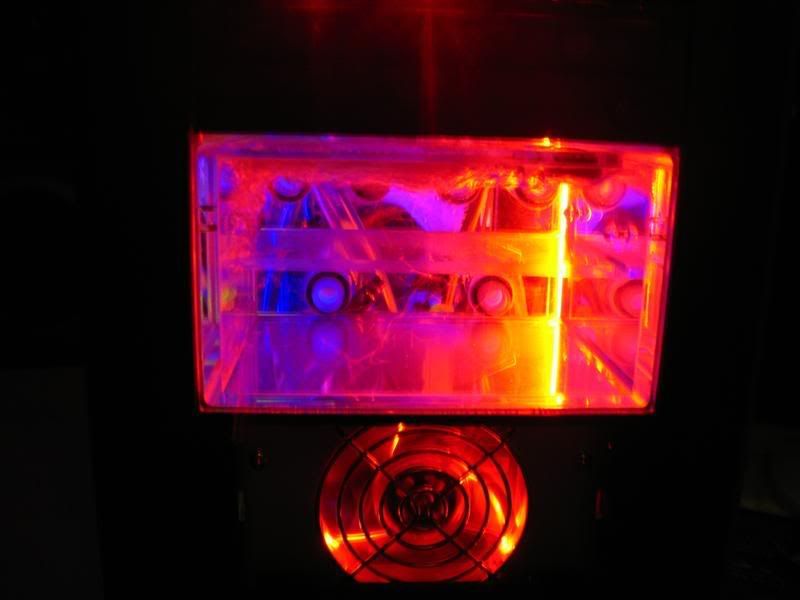 From these you can see that the loops share a common bay reservoir, and each loop is powered by an MCP655 pump. The CPU loop uses a BIP2 installed in the top of the case, while the GPU loop uses a BIX2 installed in the bottom. I was going for a back/red theme with some yellow highlights, so I used UV red plexi to help mount the BIP2.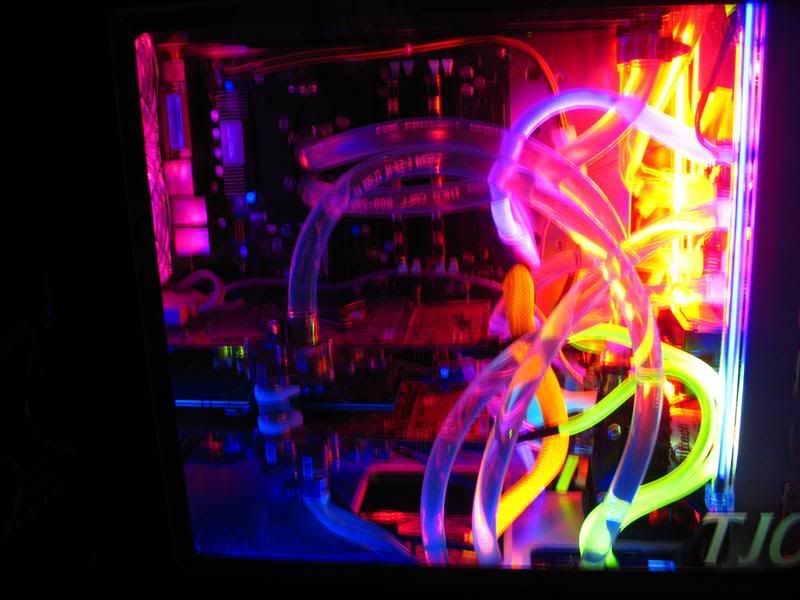 I have not been able to find a red UV coolant that's actually RED.
It's been said that the TJ07 is the best water cooling case on the market, and that it's perfect when too much is just right. With this project, I want to show how much I agree with these statements and create a tribute to overkill water cooling. I am hoping to be able to cram the following parts into this build, with everything mounted internally:
two Swiftech MCR320 radiators (one in top, one in base)
one Swiftech MCR220 radiator (in base)
two Swiftech MCP655 pumps run in series (in base)
D-tek Fusion CPU Block
Swiftech MCW60 GPU block (possibly two)
Swiftech MCW30 Northbridge block (or stock ASUS Blitz Formula)
EK Multi-option res 150
I also plan to use two quick-disconnect fittings (from Colder) so that I can easily remove the motherboard tray without draining the loop. We'll have to see how the space issue works out.
There are a lot of fantastic TJ07 project logs out there, and I will be borrowing heavily from them for most of this project. Two projects in particular that I recommend are
Ladderman's
and
AndyM's
.
I'm going to start this project off with the feature that I haven't seen anyone else do yet - mounting an MCR320 in the top of the case. Stay tuned.