Editor-in-Chief
Staff member
Moderator
From our front-page news:
Alright, I admit that I'm somewhat of a Linux fan, given it's my primary OS, but I'm not about to make assumptions that Windows Vista is
so
bad, that it's driving people towards it. Could I be wrong? Well, according to an author at IT Wire, it's a definite possibility. The author explains that he himself had huge beefs with Vista, and from what I assume, he decided to stick with Linux.
For whatever reason, I actually seem to be going in a somewhat opposite direction when it comes to Vista-bashing. When the OS was first released, I had no end of
Vista spite
, but now that Service Pack 1 has been released, and I realized how much better the 64-bit version of the OS is, I'm starting to hate it a lot less. I've been using it as the primary OS on the Skulltrail machine here since earlier this year, and I really haven't run into any show-stopping issues.
I know I'm alone, though, and not a day goes by when I don't hear someone talking about how bad Vista is... which actually surprises me, given that the typical user tends to be a little more patient with OS annoyances than the advanced user. So is Vista actually pushing users towards Linux? I'm willing to be debated, but I'm doubtful. As is obvious from all the news posts I make about Linux, I love the OS, but it still has a way to go before people are going to begin flocking to it.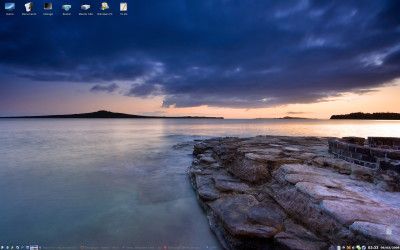 ​

The eeePC and other notebooks are a hit because everything works. There is limited functionality but then that's all the buyer is looking for. Nerds and geeks drool over it as they would over any gadget. Businessmen find them handy to carry from place to place - they weigh very little. Compared to something like my IBM Stink... er, ThinkPad, the eeePC is a featherweight. Even a child can carry it around - as indeed I've seen some children do.
Source:
IT Wire
​