Editor-in-Chief
Staff member
Moderator
From our front-page news:
SiSoftware, creators of one of the most popular benchmarks ever, have released version 2009 of Sandra. We've used Sandra in our reviews for as long as the site's been around, and it's likely easy to understand why. It offers a slew of different tests, from ones that target to the CPU to the RAM to the GPU. What? Did I just say the GPU? Why yes I did, and that happens to be one of the new features of the latest version.
As mentioned in the
last news post
, GPGPU is a term that really came out of nowhere, but is here to stay. Since GPUs have been found to be so highly-efficient in the general purpose game, a huge push is being put forth to shift certain applications over to those, to take advantage of the highly parallel architecture that the GPU offers. Noticing this, SiSoftware was quick to add three new tests to the latest version, all which test the GPU and spit out a result similar to what we currently see with their CPU benchmarks.
The new benchmarks are 'Video Rendering', 'Graphics Processing' and 'Graphics Bandwidth', all of which are self-explainable. You can see the results of the middle test below, which delivers results for both the float and double precision shaders in MPixel/s and GPixel/s, respectively. I could not immediately get the Video Rendering test to function properly, despite having a fully up-to-date system.
How useful the new benchmarks will prove to be in real-world use is unknown, but it could be just as useful as the results the CPU ones we have now. This is at least a start, and though there is not that much importance on GPGPU right now, I think we'll see things change over the next year, when applications that take advantage of the GPU begin to hit the market, such as video renderers and image manipulators. After we evaluate the new version more, we may begin to include results in our GPU reviews, if there is some interest in such metric.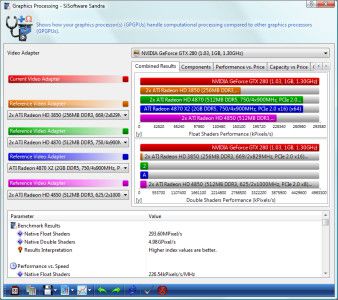 ​

We believe the industry is seeing a shift from a model where the vast majority of workload is processed on the traditional CPU: in a wide range of applications developers are using the power of GPGPU to aid business analysis, games, graphics, and scientific applications. Coupled with the charts added to the latest version of the software, we can work out whether a CPU or GPU would be faster, more power efficient or cost efficient.
Source:
Sandra 2009 Press Release
,
CPU vs. GPU Arithmetic
,
CPU vs. GPU Memory Bandwidth
​