Editor-in-Chief
Staff member
Moderator
From our front-page news:
It looks as though we'll be seeing Intel's Clarkdale a lot sooner than we expected, as recent roadmap revisions have indicated it will show up during Q4 2009, a full quarter earlier than originally planned. Will this effect the launch of Lynnfield? It's really hard to say, but probably not. Intel still has much i7 stock, so it'd be unlikely they'd launch Lynnfield sooner than needed.
As a reminder, Clarkdale is the mainstream desktop variant of Intel's 32nm Westmere, and will also be the first to feature an integrated graphics processor. These Dual-Cores will feature four threads, and will hopefully give us some real excitement. Will Westmere rid all other integrated graphics solutions obsolete? Let's hope... we're in bad need of some shake-ups!
Clarkdale isn't going to come and disappear fast. No, Intel expects that during Q4, Clarkdale will account for a staggering 10% of their shipments, so let's just hope demand can keep up! The scary thing? Core i7 shipments are set to account for only 1%, while Lynnfield will hog 2%. It's the older generation that still proves the winner though, with Core 2 Quad processors expected to account for 9%, Core 2 Duo E8/7000 at 35% and Pentium E5/6000 at 31%.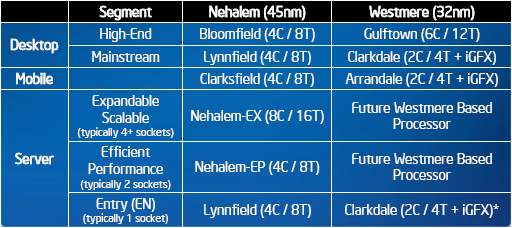 The company's 32nm Clarkdale CPUs will account for 10% of Intel's total OEM desktop CPU shipments in the fourth quarter, while 45nm Core i7 processors will account for 1%, Lynnfield-based processor 2%, Core 2 Quad processors 9%, Core 2 Duo E8000/E7000 series processors 35%, Pentium E5000/E6000 series 31%, Celeron E3000 and Atom series together 8%, and 65nm-based Pentium E2000 and Celeron 400 together 4%.
Source:
DigiTimes
​