Editor-in-Chief
Staff member
Moderator
From our front-page news:
If you take pride in your music collection, you no doubt want to stick with reliable applications that perform the job you need done, and can do that job
well
. I've been a user of dBpoweramp for a while, but somehow missed the fact that R12 was released last summer. The most notable feature for me? Batch converting.
I maintain my collection in FLAC format, but like to keep MP3 "backups" of the same music so that I can take it with me on the go... since FLAC tends to be an amazing space-hog. Plus, on an MP3 player, there's little point of bringing along a quality pair of headphones, unless you don't mind looking like a fool carrying them around.
The problem is, I have never found a program to reliably convert such a large collection of files. The best solution I have found was using foobar2000's built-in feature, but it would always crash after every ~500 tracks... very frustrating. So I quickly downloaded the latest Reference dBpoweramp version and figured I'd give the new feature a try.
<table align="center"><tbody><tr><td>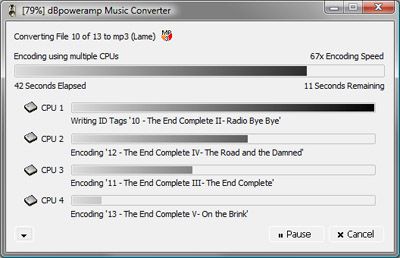 </td></tr></tbody></table>
In the end, the program converted all 5,015 FLAC files in a mere five hours on a Quad-Core processor. Though the computer contained eight cores (Intel Skulltrail), the developer noted that the reason for only four cores being supported is due to hard drives not being able to keep up. Seems reasonable, but for those with a nice RAID array, such support would be nice.
Five hours may not sound terribly impressive, but it is. Using averages, each track took 16 seconds to convert, and all 5,015 were taken care of with a simple click of the button. Since the program took advantage of the Quad-Core, the total time taken could have been over twenty hours otherwise!
To say I recommend the application would be an understatement. If you take pride in your collection, dBpoweramp still holds its ground as an audiophiles killer-app.
Source:
dBpoweramp Official Page
​
I threw this in the audio forum because it needs a lot more attention than the software section ;-)