Editor-in-Chief
Staff member
Moderator
From our front-page news:
Xigmatek isn't a company that's been around too long, three years in fact, but with the products they've released so far, they've earned the reputation of a company that produces worthwhile products. Their Thor's Hammer CPU cooler, for example, costs half as much as Thermalright's Ultra-120, but is claimed to perform just one degree worse. That's what I like to see.
At Computex, the company was showing off their first-ever chassis, the Midgard, which is set to compete with the likes of the Cooler Master 690 (which we reviewed
here
). It features a pure-black paint scheme (100% internally as well) with orange on some of the components. Plus, from what I see, it also features a mostly tool-less installation - a big plus.
Though it may just be a mid-tower, it has room for seven 120mm fans for the ultimate in cooling-ability, and includes two with the stock chassis. Even cooler (at least to me), is that the included fans feature orange blades and white LEDS, the latter of which we don't see often enough. I assume that once the chassis is made available, you can purchase additional copies of the same fan, although I'd expect them to me more expensive than typical models.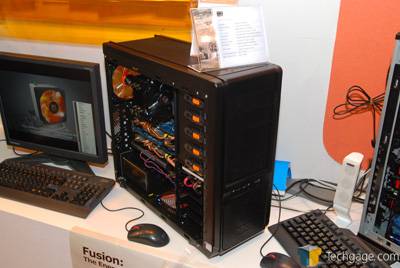 ​
The best part of the chassis might be the fact that it's going to retail for around $75. That's rather incredible given the robust design and great color scheme. It's not often that the inside of a chassis has so much attention to detail, even on some higher-end models. The Midgard should become available within the next month or two, and we'll be sure to get one in to put it through its paces.
​
Oh, and Bill, I forgot to tell you. You have another chassis to review ;-)