Editor-in-Chief
Staff member
Moderator
From our front-page news:
OCZ has long been known as a company to offer products for the enthusiast. We have memory of course, CPU coolers (even thermal paste), power supplies, flash memory and even a mouse. So what's next? How about a do-it-yourself gaming notebook? Yea, I didn't see this one coming either.

OCZ acquired Hypersonic last fall, so we knew that the Sunnyvale-based company had an obvious desire to branch out and target enthusiasts of all shapes and sizes, but even after that acquisition, I sure didn't expect this to come about, especially so soon! Though OCZ are not the first ones to offer such a notebook, they are the first ones to target it specifically at gamers.

The notebook will come in a standard 15.4" size, and include an 8600M GPU, S-ATA drive support, DVD burner, 4 USB ports, ExpressCard and even a fingerprint reader. The chipset used will be the Intel PM965. Optional components will include a Bluetooth chip, TV tuner and a wireless adapter, based on Intel's 4965AGN (aka, the same chip used in most laptops sold right now).

From there, you add performance parts, such as the CPU, memory and of course, the hard drive. All of these parts are readily available at all popular e-tailers, so getting a hold of what you need shouldn't be too difficult. OCZ might sell certain parts themselves, however. This is one reason the GPU is included, though, as it is one component not found at any e-tailer. Until DIY notebooks catch on, it might remain that way for a while.

This is a very interesting direction for OCZ to go, but it makes complete sense. They've mastered the enthusiast market with their memory and power supplies (especially helped with last spring's acquisition of PC Power & Cooling), so taking such a turn doesn't sound like such a bad idea. It will be very interesting to see how successful these will be, when released later this year.

​
<table align="center"><tbody><tr><td>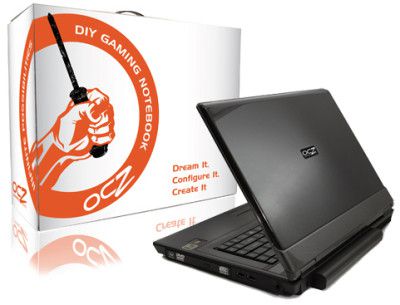 </td></tr></tbody></table>

Each notebook comes from OCZ standard with a 15.4" WXGA display, NVIDIA GeForce 8600M GT 512MB GPU, Intel PM965 northbridge/ICH8M southbridge, SATA support for HDDs or SSDs, 8x dual-layer DVD burner, four USB 2.0 ports, ExpressCard 34/54 slot, and a fingerprint reader. Optional components will include Bluetooth 2.0+EDR, a TV tuner, and a Intel 4965AGN 802.11a/g/n wireless adapter.


Source:
DailyTech
​