Alright my usual attempt at semi pro product shots has been hampered by lack of sleep, being in a hurry and poor choice of lens selection. Shot this with my 35mm Prime but being this close makes focus an issue. Didn't want to stop down and have to increase ISO... full of disappointment. Next time ill break out the zoom.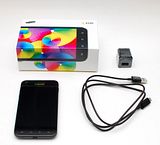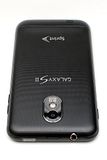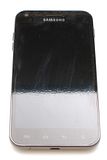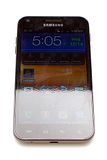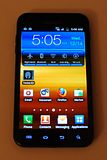 The screen protector was installed already so don't mind its extra reflection.
Why I chose this phone.
Step back some time ago and I probably would have jumped straight into an iPhone. I have some hatred for windows mobile/phone and with classic palm out the window and current palm too I myself settled on Android. I am too much of a tinkerer to settle for Apple's policies and getting around them. Not that providers with android phones or even the phones themselves are completely void of this because they are not. I was looking to grab the original Galaxy S despite its little GPS issue and this was announced. Finally got around to picking it up.
Feature phone to Android... Oh boy.
I am used to walking up to any platform and jumping straight into it without too much effort. I had gone straight into the store and laid it out for the sales lady. When she was done her job my only question was where do i sign in my Google account. So I left the store completely void of any training.
I got in my car and couldn't even find the device's power button. Once sorting this out it didn't take a genius to start using it. But it is an adjustment coming from a non touch screen phone as well as never having used this particular OS. I probably wandered a bit through using the phone and applications before realizing one of the touch keys acted as a system menu. The OS is probably skinned and changed a bit but some of the basics seemed to be holding on an application from the app menu lets me drag it to the main screens and doing the same lets me drag it back off. Sliding from the top of the screen lets me turn things on and off quickly which is a relief. As well as see the status of applications, downloads, installs.
Battery Life
Well 1 day is no way to measure battery life for a device. I abuse power by turning up the timeouts and increasing the screen brightness. After getting used to the phone I charged it all the way up. I used it for 10 hours before going to sleep for about 4. When I woke up the phone was at 12%. This goes inline with the 9 to 12 hours I had read about for heavy use. Some users might be able to stretch out a 16 hour day. For the rest of us it will make it through an 8 hour work day and need to be charged twice a day.
Sprint's 4G... when available.
Alright so my feature phone had 3G and i barely used it for that. The 3G on this tests out to DSL like speeds. The 4G seems to be rock bottom average of 2 Mbps with my usual runs around 9 Mbps. Peak hit 15 Mbps and the upload is a slow but steady 1.5 Mbps average anywhere I have been so far.
Maximum throughput even sustained won't always matter. The source of a download does. Grabbing Grand Theft Auto III from the marketplace netted just under 1 Mbps making the 452 MB download take 10 minutes. Not bad but obviously could be better.
Screen, Speakers, Playback
So you know I got tired of youtube on my old phone right? Oh what a dream on this. The screen is bright as can be but the auto brightness not so much. If your walking into the sun the sensor is on the wrong side now isn't it? In the dark the phone likes to go to "0%" but honestly if it started at the "25%" mark the auto setting would be alot better.
I have yet to play music but you tube on the speaker is plenty loud even in the noisy parts of my work. As long as I am on 4G the player automatically goes into HQ mode and all is well. Kinda disappointing I have to force HQ on 3G which is still fast enough considering that on a bad day the 4G is only a few times faster.
Camera
Alright well I bought this hoping to replace my point and shoot which I have not carried since I bought the dSLR. I also hoped to avoid buying a cheap pocket camcorder after getting this. You can't expect much when you cram 8 million pixels into a sensor this size and throw a little lens over it. The flash has 5 led's in it and is brilliant but outside of a group photo in a bar I am not impressed. I shot 2 quick pics inside a taco bell on my way home and the non flash shot armed with a steady hand came out better: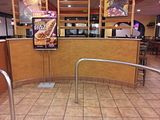 I have yet to get outside in the daylight and hope to do that today. I tested some indoor 1080P video using 200 watt replacement CFL's. The video mode does go into its daylight 30 FPS under this much light just as i had hoped. When focus takes hold the video is sharp and what I expect from something like a pocket camcorder. I have yet to shoot test footage id be willing to show (IE not my messy desk). As with these things left to right movement isnt any fun. The rolling shutter effect isnt bad but the focus tracking is slow as well.
Protection
I had Best Buy install the invisible shield for me. I have done them before but didn't mind paying someone to do a better job and buying it in store instead of online meant day 1 protection. I bought a minimalistic soft rubber case at a Sprint kiosk at the mall. It is of generic branding and the only comment is some PC Micro USB cables might not like the charger hole. Being soft rubber makes this a non issue most of the time, but look forward to damaging the rubber eventually.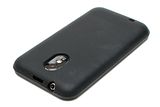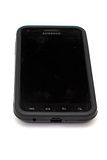 Apps upon Apps
You know the first thing i downloaded was Firefox? Main thing was being able to sync bookmark's and tab's since I am a desktop user of the application. Skype and all the essentials filter down the list. Teamspeak was a must to try out for me and controlling my PC via Team viewer. I have a bit of complaint about not being able to readily see my battery percentage exact. So grabbing these sort of widgets are a must for me. Everyone will make their own choices on apps but grabbing an LED widget and brightness widget were things I wanted. I bought Camera ZOOM FX from the sale just while writing this.
I was very unsure what I wanted for games. A touch screen phone doesn't seem ideal. I like to avoid silly stuff and was going to avoid Angry Birds. But its free how can I not play it! I also bought Grand Theft Auto III and while its awkward its not bad at all.
So how locked down?
I was originally going to root the thing straight away. I have some interest in developing for the platform. Being naughty with hotspot aside I cant see a reason to root this for the moment. Sprint allows side loading it seems and has a couple of dev options like usb debugging. The Galaxy series being among those that can screen shot without rooting makes it even better for me.
The whole android experience.
It's hard not to like it coming up from complete crap. Using it so far has almost changed my mind on the concept of tablet computing. Being able to control my PC from work. Show people stuff on you tube without bringing the laptop with me. The lack of physical controls changes gaming but the utility of the device goes beyond that. Browsing the web versus my older phones is phenomenal but this and other experiences should be the same across the board for iOS and Windows Phone devices.
A little look at size.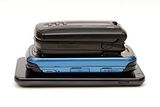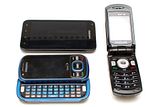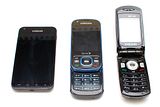 Here are my last 3 phones, all Samsungs with the last being an old Verizon flip the a930. The Galaxy S2 is not as thin as the new Droid RAZR but the 1.8mm difference hardly bothers me. I wanted a huge screen and I got it. I am happy with the thickness compared to some friends phones. Glancing at a couple of iPhone's I don't mind the larger less dense display but it does leave something to be desired? Its thinner but looking overall at the phones available I know what Steve Jobs was talking about when he called them Hummer phones.
In closing, this is all pretty generic information. But just felt like sharing my day 1 experience.
Last edited: