Editor-in-Chief
Staff member
Moderator
From our front-page news:
It's not all too often that a new notebook comes around that is truly unique, because let's face it, it's hard to do something interesting with such a confined amount of space. Well, Lenovo has gone ahead and released what appears to be the mobile warrior's ultimate notebook.
Not only does this 17" feature the option for WUXGA resolution (1920x1200), an NVIDIA Quadro FX 2700M 512MB
or
a
1GB
Quadro 3700M, DVI/VGA/DisplayPort, support for up to 8GB of DDR3 memory, and two hard drives in RAID 0 or 1, but it also includes, get this... a Wacom tablet. Finally, someone did something unique, and
useful
.
We've of course taken a look at
a few
Wacom tablets
in the past
, and attest to their usefulness, and how much they can add to your productivity. The notebook obviously doesn't offer a huge pad to work with, but if you are already accustomed to a tablet at your desktop, then being able to bring one with you on the go seems like a great option. The downside, if any? The base model begins out at $2,978...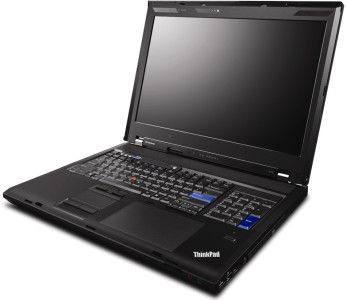 Lenovo's ThinkPad W700 will use Intel's latest and faster Penryn-based mobile processors and can be equipped with up to 8GB of DDR3 memory. In addition, the system can be configured with up to 2GB of Intel Turbo Memory. Because of its large frame, the ThinkPad W700 can also accommodate up to two HDDs in either a RAID 0 or RAID 1 configuration.
Source:
DailyTech
​