Editor-in-Chief
Staff member
Moderator
From our front-page news:
Leaked Intel roadmaps are as about rare as finding a Starbucks, but this one is a bit interesting. The folks at Expreview stumbled over a new roadmap that reaffirms what we already knew about the upcoming launches, except this time, model names are attached.
The 3.2GHz model is set to be called the Core i7 965, the 2.93GHz will be the Core i7 940 and the smaller 2.66GHz will be the Core i7 920. It doesn't need to be said, but these are not the most creative names Intel could have picked out of the hat. Of course, the same can be said about the 'Core i7' moniker as well.
To recap what we know so far, the highest-end 965 at 3.2GHz will be priced at $999 in quantities of 1,000, similar to most other Extreme Edition's we've seen in the past. The 'performance' 940 at 2.93GHz will be sold at $562, while the mainstream 920 at 2.66GHz is $284. The roadmap doesn't expand much beyond these three models, sadly, but it does appear that the first follow-up Nehalem launches will occur in Q2 of next year.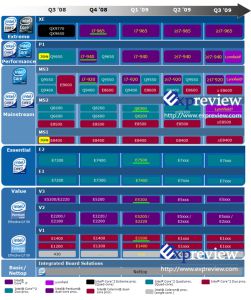 Source:
Expreview
,
Via:
Fudzilla
​