Editor-in-Chief
Staff member
Moderator
From our front-page news:
In today's day and age, where the Internet can deliver everything from music to movies to games to news to virtually anything else you need, it seems unlikely that something like typical radio will ever grow from this point forward. In fact, numbers are likely dwindling already. It's easy to understand why. If you have an MP3 player with music or podcasts you enjoy, why bother tuning into a radio station and
hope
they play something you want to hear?
Over the past few years, content in some regards has gotten a bit better on some stations, and thanks to things like Satellite and HD Radio, the quality has gotten better as well. But with the overall lack of HD receivers being sold, or HD Radio capabilities bundled with our media players (the Zune HD is one of the few to support HD Radio), adoption overall has been slow, despite fair support from various radio stations.
So it was with great interest when I read that CBS, the owners of social music site Last.fm, will be rolling out an HD Radio station based on the service in the US' top 4 markets: New York (102.7 HD2), San Francisco (105.3 HD3), Chicago (93.1 HD3) and Los Angeles (93.1 HD2). If the stations prove to be a success, we could imagine we'd see an even greater rollout across other large cities.
What makes this move so interesting is that it's the first time an online radio service has ever taken it to the real airwaves (there have been times when
the opposite has occurred
). Plus, because the charts on Last.fm are adjusted via
real
usage from the service's millions of users, essentially what's most popular on the service, will get played on their HD Radio station.
I think it's probably safe to say that if you have music tastes that sway from what's popular on the Last.fm charts,
like mine
, then the station isn't likely going to be for you. But, if the first launched station proves successful, it'd be interesting to see if CBS would launch follow-up stations based on the most popular genres on the site. You'd imagine that such a move would have real potential.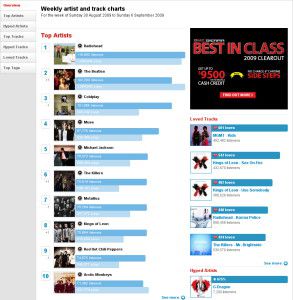 It's an interesting notion, to create one centralized station consisting of the top-rated and most popular stuff on Last.fm, because the whole idea behind web radio is that you don't have to listen to what everyone else is listening to. On the other hand, Last.fm's charts will surely do a better job of finding interesting music than the robots in charge of other radio stations will ever find.
Source:
Wired
​