Editor-in-Chief
Staff member
Moderator
From our front-page news:
Is this much of a surprise? Given that Apple's iPods continue to dominate the market, iTunes' success was bound to follow - and it has. According to recent reports by the NPD group, iTunes sales accounted for a staggering 25% of the entire overall music market in the US, and accounted for 69% where digital music is concerned, towering over the likes of Amazon.com, which holds just 8%.
These numbers are very revealing as to the future of the music sales landscape. Physical CDs have been decreasing in popularity since the digital music scheme of things exploded, but believe it or not, it's still the CD that holds the majority of the sales. Digital music downloads are expected to eclipse the sales of physical CDs by the end of 2010.
I've expressed my own opinions on this many times before, and my mind certainly hasn't changed. I'm still the kind of person who loves walking through a real music store, rummaging through the selection and leaving with a couple of new discs to go home and rip. But, I seem to be part of a dying breed, and I'm personally wondering just how long it will take before the physical music store will disappear, if ever.
Who's with me? Do you prefer to purchase the real CD or hop online to download it? Are you opposed to purchasing music on other physical media, not on CDs?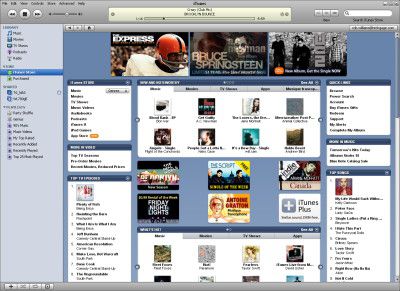 iTunes-purchased songs now account for 25 percent of the overall music market--both physical and digital--in the U.S., says an NPD Group report released Tuesday. However, CDs are still the most popular format for music lovers, winning a 65 percent slice of the market for the first half of 2009. Digital music downloads have jumped in recent years, said NPD, hitting 35 percent of the overall market for the first half of this year, compared with 30 percent last year and 20 percent in 2007.
Source:
CNET News
​