Editor-in-Chief
Staff member
Moderator
From our news:
With Apple's impressive showing the
other day
, should Microsoft be worried? No, but getting to work on an iPod threat would be a great idea. As CNET reports, Microsoft cut their Zune down to $199 the other day, but even then, it's a difficult sell considering some of the new iPods in that same price range. The Zune
could
have been more impressive if it put it's WiFi capabilities to good use. As it stands, the only thing it's good for is swapping songs with your friends. Had they allowed similar functionality as Apple introduced in the iPod Touch, then things might be a little different.
If the leaks from
last week
prove true, then Microsoft is likely to have a tough time building excitement for their Zune 2 as well. I am far from being an Apple fanboi, but even I can't discredit how great the new offerings look. For the first time, I'm actually considering getting an iPod in the months to come. The Zune and Zune 2 on the other-hand, don't even look that visually appealing. Of course, competition is far from over, and Microsoft is not one to give up easily. Chances are good we will see some innovative stuff come out of Redmond sooner or later. Hopefully much sooner than later.
<table align="center"><tbody><tr><td>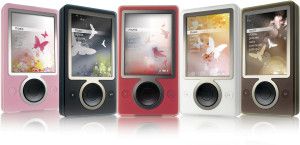 </td></tr></tbody></table>

Microsoft has been careful all along to say it expected a long, expensive, uphill climb in this market. The thing that makes it so tough for competitors is that Apple has shown itself willing and capable of taking its market-leading products, turning them on their head, and making them even better. The company did so a couple years back when it introduced the iPod Nano to replace the iPod Mini, its best-selling product at the time. And it appears to have done so again, replacing the Nano with a video version and the video iPod with the iPod Touch.


Source:
CNET News
​