Editor-in-Chief
Staff member
Moderator
From our front-page news:
It almost feels like Intel
just launched
their P35 chipset, but it's been close to a year. Since that release, we saw both the X38 and X48 chipsets come to fruition, so the next step is of course the P45 (and G45). We are in the process of working on a review for the ASUS P5Q Deluxe, but I thought I'd post about it quick here, since it's quite an offering.
P45 in itself is not too exciting, specs-wise. It bumps up the official FSB from 1333MHz to 1600MHz and includes support for PCI-E 2.0, a la X38. Total yawn, but what's exciting is the fact that the overclocking ability is far improved, and the options available in the BIOS are on par, and beyond, with X38/X48 options. When I first took a peek into the P5Q's BIOS, I was surprised to see brand-new options available, such as new memory enhancers and voltage options.
I won't delve much into that here since I haven't toyed with it, but one thing's for sure... P45 will be for dedicated overclockers. But that aside, the P5Q is one packed board, and putting it so simply makes it an understatement.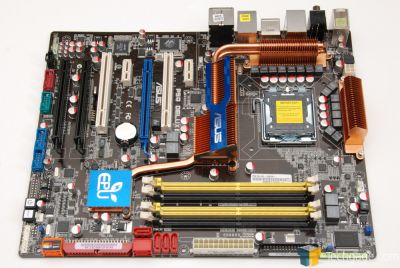 ​
In addition to their EPU technology, ASUS boasts having the first 16-phase power solution available, which is true. Gigabyte holds a close second with their 12-phase power solutions, although others might exist as well. Another new feature is "Drive Xpert", which is essentially RAID but in layman's terms. With two special S-ATA ports on the motherboard, you can either duplicate an entire drive (even without entering Windows), or set up "Super Speed", which is essentially RAID 1.
On top of it all, the Splashtop embedded Linux environment makes a comeback, but is a much more updated version than what we first saw on the
P5E3 Deluxe
. In addition to being able to use Skype and surf the web (where YouTube now works), you can look at photos on the PC and talk via IM with a customized Pidgin application. I'll tackle this and a lot more in our review which will be posted within the week. Stay tuned...
​