Editor-in-Chief
Staff member
Moderator
From our front-page news:
If the reminder
I posted the
other day wasn't enough, let's try it all again. As you read this, Rory and I will have probably already landed in San Francisco, ready to take in all that Intel's Developer Forum will throw at us. If you didn't read the
post I made
the other day, I recommend you do, since I tackled what we covered at the
last
event.
What are we going to hear about this year? Without question, the biggest news will hover around their upcoming Nehalem processors, the first proper successor to the 65nm Core 2 series that launched in the summer of two-years-ago. We already know that the initial processors
will be called
Core i7, so I'm sure we'll be seeing banners representing the new branding all over the Moscone Center.
Besides Nehalem, Intel is sure to update us the X58 chipset, their record-breaking SSDs, USB and PCI-E 3.0, and they might even unveil more about their Larrabee architecture. Whew, how we will be able to comprehend all of this is beyond me, but we'll do our best to keep you guys up to date on anything interesting that comes out of the conference. Coverage begins tomorrow, so check back often!
<table align="center" border="0"> <tbody> <tr> <td>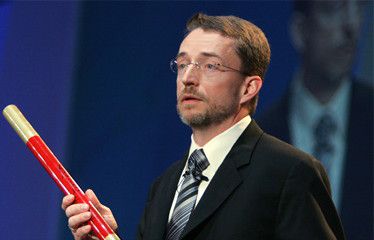 Intel's Senior VP & GM, Digital Enterprise Group, Pat Gelsinger </td> </tr> </tbody> </table>

Intel Developer Forum only happens in the U.S. once a year, which means you should not miss this invaluable opportunity to hear major announcements, get job-critical training, ask questions, and get answers from Intel Fellows and top engineers on next generation processor technologies that impact your work.
Source:
Our Coverage of IDF
​