Editor-in-Chief
Staff member
Moderator
Rory and I will be heading to San Fran next week for IDF, so I thought we should all refresh our memories of what happened there last year!
From our front-page news:
It's almost that time of the year again, when we'll be heading down to San Francisco for Intel's
Developer Forum
, a conference for all things directly related to the company and its partners. Out of all the trade shows I visit in a given year, IDF has proven to be my definite favorite, and I believe it's impossible to leave the Moscone Center not feeling a heck of a lot smarter than when you went in.
Before we begin reporting on the upcoming event, let's take a brief look back on last year. The big news then was of course Intel's 45nm architecture, which is hard to believe, since the market is completely saturated with the
processors
now, seven of which we've already taken a hard look at. Those include the Dual-Core
E7200
and
E8400
, and the Quad-Core
E5410
,
Q9450
,
QX9650
,
QX9770
, and of course, Skulltrail's
QX9775's
.
Speaking of Skulltrail, that was another highlight of our trip, simply because the rig in place was so drool-worthy. How could it not be, with two Quad-Core processors operating at 3.2GHz? We of course took a look at this offering
earlier this year
and followed-up with our guide on
building a budget
version, because in all honesty, not everyone has thousands of dollars to spend on the motherboard and CPUs alone, right?
<table align="center" border="0"> <tbody> <tr> <td>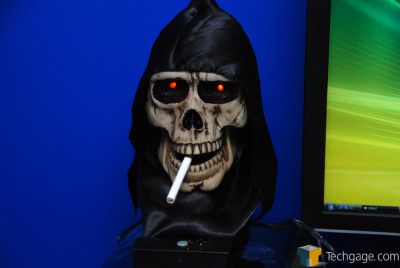 (I had to use this image just one last time.)</td> </tr> </tbody> </table>
Rather significant news last year was with regards to the PCI-Express and USB 3.0 specs, which are still a ways off from implementation. PCI-E 3.0 promises to be twice as fast as PCI-E 2.0 and offer new support, while USB 3.0 aims to be 10x faster than 2.0, which is truly incredible. Imagine the possibilities there, especially with external storage. We are sure to learn more about these technologies, and many others, at next week's event.
For a thorough refresh, why not run through last years coverage, to better prepare yourself for the excitement this year? This year also proves a little more interesting, since NVIDIA is hosting their own conference immediately afterward, called NVISION. I'll talk more about that next week though, but for now you can visit the
official site
. If you live anywhere near San Jose, you should definitely consider going.
Source:
Intel Developer Forum Coverage
​