Editor-in-Chief
Staff member
Moderator
From our front-page news:
Bigger may be better in some cases, but where our microchips are concerned, the opposite is true. Intel is one company to fully believe this, and they made it increasingly clear that their goals are to deliver small yet performance-efficient chips to help make notebooks even smaller, but still desirable. We've made mention of these
in our news
before, but a lot more information was given today.
In the launch of four new ULV processors, Intel stated that it's cool to be thin, and as I mentioned in a posting
earlier today
, computers are not only being designed around functionality nowadays, but also style. It's not fashionable to lug around a 10lb offering, but a sleek 4lbs notebook can be, if done right.
Processors that draw low power also tend to lack performance, and these CPUs aren't going to break that mold. However, it's Intel's and many other's ideas that most people who use a notebook on the go use it for simpler purposes, such as e-mail and writing. So in a scenario like that, how great it would be to have a 10" - 12" notebook that lasts close to 7 hours? It's been claimed that these new CPUs can make it happen.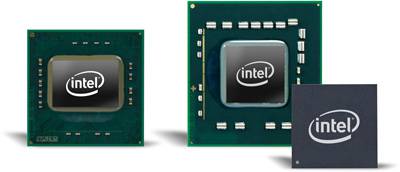 ​
In addition to the new processors, Intel also introduced the GS40 Express mobile chipset, which is required for these new CPUs to make use of their full power-saving potential. But it also enables robust HD playback (hopefully) and also native HDMI... a nice bonus. Past those features, Intel also touted WiMax as having grown vastly in popularity in the past year, and a new "My WiFi" technology for notebooks that will allow you to set up your machine as a wireless hub, for use with other PCs or peripherals.
All in all, not a bad showing on the mobile front from Intel. Decently-sized notebooks that last 7 hours? Sign me up.
​