Editor-in-Chief
Staff member
Moderator
From our front-page news:
There's no such thing as leaving a meeting with Intel uninformed, so we have a lot of interesting things to report regarding the company's upcoming technologies. First is Lynnfield, the "value" version of Core i7 tentatively called "Core i5". It features a similar underlying architecture as Nehalem, but drops such luxuries as triple-channel memory and the QPI bus (in lieu of DMI).
Interestingly enough though, Lynnfield also enhances something found on Core i7, Turbo. On Nehalem, Turbo would affect the first or second core (if you don't know what Turbo is, refer to our article
here
), but with a proper workload on Lynnfield, you can actually see Turbo affect
all
cores, which would result in a boost that would actually be noticeable. We'll talk more about this nearer to the launch date.
Next up is Arrandale, the mobile version of Nehalem due out later this year. This mPGA-989-based processor has the same underlying architecture as Core i7, but utilizes a dual-channel IMC and contains less cache. Aside from the obvious performance boost over Penryn-based CPUs, Arrandale will offer both 4MB of Cache and HyperThreading... perfect for mobile workstations.
As for power draw while mobile, we'll have to see. Nehalem's advanced power states are sure going to have to work overtime to sustain a decent battery-life on any equipped notebook.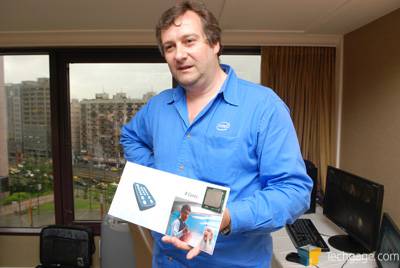 ​
Westmere was discussed briefly, but given that the launch is still a ways away, Intel wouldn't divulge too much information. One interesting point mentioned, which I didn't realize before, is that Westmere will be using the same socket, LGA-1156, as Lynnfield. So if you have a PC with a CPU/GPU hybrid Westmere, you could upgrade to Lynnfield without issue, as the pin layout supports the change.
Before the meeting concluded, Intel's performance guru Francois Piednoel opened up a small card to show off an Octal-Core processor, presumably based on Nehalem. As the card opened, MC Hammer's "Can't Touch This" immediately began playing. Nice.
June 4th Update (21:44 CST)
: The mobile part we saw was not Arrandale, but rather Clarksfield. Thanks to Intel for pointing this out and apologies for the confusion.
​