Editor-in-Chief
Staff member
Moderator
From our front-page news:
One cool surprise at CES that I didn't expect to see was eVGA's upcoming high-end X58 motherboard, one that might do well to compete with the likes of ASUS, Gigabyte and others in that arena. Although I don't recall the name of this board (there might not have been one), it's designed for hardcore gamers, enthusiasts and overclockers, plain and simple.
The first thing you might notice is the superb color scheme. It doesn't feature a hundred different colors, but two... black and red. Small aesthetic touches have been taken as well, such as black metal being used where able. Apparently, it's
really
complicated to use black metal for the back I/O ports, so sadly, they remain stock.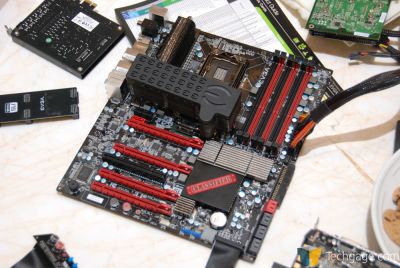 ​
This board was built for high-end gamers, and the layout of the PCI-E slots prove it. With this configuration, someone would be able to go with tri-SLI, with say, NVIDIA's new GTX 285's, and then still have a PCI-E slot free for use with a smaller GPU, such as an 8800 GT, for dedicated PhysX use. This is a great ability, but it goes without saying that you'll want some superb airflow in your chassis.
Other features include a very robust heatsink on both the northbridge and PWM area, eight-phase power solution, included high-end audio (X-Fi, but unsure if it includes the real chip), two SLI bridges (depending on what configuration you are going with), and also an external piece of PCB that contains power buttons and other various switches, including a BIOS status LED. This doesn't have to be used with a simple GPU solution, but if you plan on topping the board out, like it suggests, this add-on will assure you'll lose none of the functionality at the bottom of the board.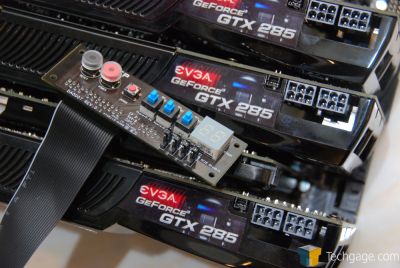 ​
This board is set to be launched within the next few months and will retail for around ~$450. It's pricey, so it won't be for everyone, but it's great to see eVGA pushing their motherboard development so hard. They admit that their launch X58 board was a little rushed out the door due to time-constraints, but they've really spent some hard time with the design of this one. I can't wait to see what it can muster - besides a very, very warm room, of course.
​