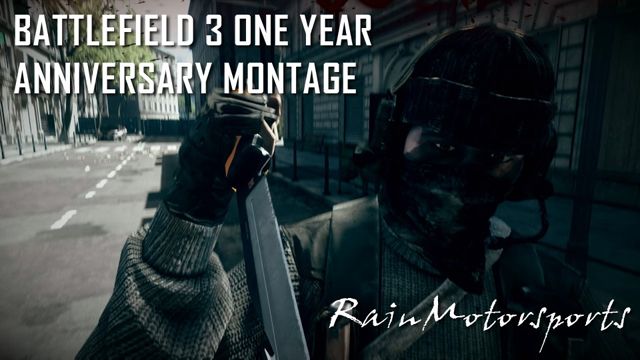 Reddit -
http://www.reddit.com/r/battlefield3/comments/136kll/battlefield_3_one_year_anniversary_montage_by/
You saw the trailer -
http://www.youtube.com/watch?v=I05wwhaKCE4
now see the video!
YouTube:
<iframe width="640" height="360" src="http://www.youtube.com/embed/3XcqD36TIfQ" frameborder="0" allowfullscreen></iframe>
Video is also available in a H.264/WebM stream for HTML 5 compatible browsers on my website or well lack there of at this point. I will get back to that sometime after I get back to enjoying games.
I wont tell you that I am entirely happy, because I am not. It got a little too long but I left out literally everything I could stand to leave out in this broad subject. The music is the main point which if I had more time would have been changed out. I was in search of video that was available for license or free for non commercial use and generally likable. But what I went with just doesn't fit the pace of the video.
Tutorial in recreating the BF3 spawn menu coming soon. Its pretty basic editing but not everyone knows how.
Last edited: