Editor-in-Chief
Staff member
Moderator
From our front-page news:
With all the talk going around about USB 3.0 and S-ATA 3.0, you'd imagine that the first adopters would be those with high-end PCs. After all, nothing says bleeding-edge like a technology you can barely take advantage of! But that hasn't been the case at all, as it seemed motherboard manufacturers have been much more interested in delivering both technologies to the mainstream audiences first, and idea must've been universal, as up until just last week, all such boards have been based around Intel's P55 chipset.
I believe Gigabyte was the first out of the gate with its X58A-UD7 (I discussed Gigabyte's implementation of both technologies
last week
), but ASUS didn't take too long to launch a competing board, and has done so with its high-end P6X58D Premium. While Gigabyte's implementation of USB 3.0 on its P55 boards degrades the primarily PCI-E slot speed to 8x, ASUS doesn't seem to have that problem, either with its P55-based P7P55D-E Premium, or the P6X58D. To be fair, though, no X58 board will suffer that problem, as it has enough bandwidth lanes to satisfy the hungry appetite of USB 3.0 without affecting the PCI-E speeds.
As a "Premium" model, the P6X58D offers everything you'd expect a high-end board to. For gaming enthusiasts, there's support for 3-way CrossFireX and SLI, while for overclockers, there's a 16+2 phase power design, in addition to a robust heatsink configuration. Being an X58 board, it also offers support for triple-channel and up to 24 GB of RAM, with speeds up to 2000MHz (support varies from part to part... it's not guaranteed), and of course, it also supports Intel's upcoming hexa-core Gulftown processors.
In addition to the other usual slew of components, ASUS' P6X58D board also includes numerous other technologies, such as TurboV, MemOK!, EPU, ExpressGate, and also DTS "Surround Sensation". Being a higher-end board, the $309 price tag should surprise no one. It's unfortunate that we haven't seen more affordable options for USB / S-ATA 3.0 in the X58 space, but being that X58 is high-end itself, it's not much of a surprise at the same time.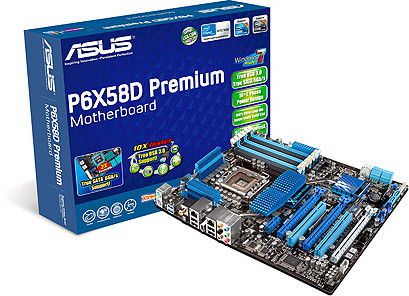 Supporting next-generation Serial ATA (SATA) storage interface, this motherboard delivers up to 6.0Gbps data transfer rates. Additionally, get enhanced scalability, faster data retrieval, double the bandwidth of current bus systems. Experience ultra-fast data transfers at 4.8Gbps with USB 3.0--the latest connectivity standard. Built to connect easily with next-generation components and peripherals, USB 3.0 transfers data 10X faster and is also backward compatible with USB 2.0 components.
Source:
ASUS Product Page
​