Editor-in-Chief
Staff member
Moderator
From our front-page news:
What do you picture when you think of a "performance PC"? Chances are, you picture a large chassis filled to the brim with high-end parts, one that not only delivers great performance, but looks the part as well. One area that has gone mostly ignored though, has been the HTPC/SFF crowd. Few manufacturers seem to care about mATX motherboards (DFI is one exception), and though there are some great ones out there, not many give the same feeling of completeness that their desktop counterparts do. Even the packaging is boring most of the time.
Well that changes with ASUS right now, with the launch of their Rampage 2 GENE mATX motherboard. This board is no slouch, and I'm having a hard time figuring out how they managed to fit so much stuff onto it. First, it uses Intel's X58 chipset, not a variant normally designed for smaller form-factors. It also packs in support for
both
CrossFireX and SLI, assuming you can fit the two cards in that you wish to use (dual-slot coolers will be tough).
In addition, despite the lack of space, the board still includes six DIMM slots, allowing up to 24GB of RAM to be installed. It doesn't stop there either... we also have 7 S-ATA ports, 1x eSATA, 1x IDE, 8-channel audio and more. As you can see in the photo below, this is one packed motherboard. Whether or not it will be a hot pick for SFF gamers is unknown (I'm sure pricing will determine that), but it's nice to have such an offering available from ASUS.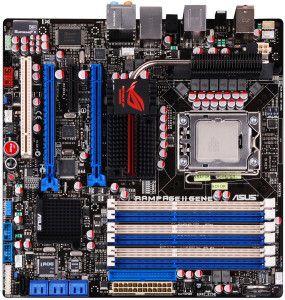 ​

With the Rampage II GENE, ASUS has masterfully filled the micro ATX gap with its lauded ROG product line. Users can now harness the full power of the Intel Core i7 processor in a chassis the fraction of the size and weight of standard desktop PCs. The Rampage II GENE's awesome combination of overclockability, tweakability and stability enable it to even outgun other full-sized motherboards.
Source:
ASUS Press Release
​