Editor-in-Chief
Staff member
Moderator
From our front-page news:
It's time again to peruse the results of the latest hardware survey on Steam. There are a few interesting and not-so-interesting results this time around. First up is network speed, which shows less than 5% are still on dial-up, while another 30% are on a 1Mbit or lower. The most popular network connection is 2Mbit, at 31%.
For RAM, an 38% are using 2GB and higher. The bulk of the CPU usage belongs to Intel with 58.48%, with AMD not so far behind with 41.51%. Interestingly, there are 109 Tri-Core Phenom users mixed in there, with three users running 127 cores. Is that even reasonably possible?
The majority of users are using NVIDIA's 8800 series, which could include pretty-well any of the models, which is unfortunate, since an 8800GS is far different in performance than the 8800GTS 512. NVIDIA dominates though, with ATI's classic cards being the most popular. The top ATI card is actually the 9600. Believe that!?
Here's another interesting stat, and one I'm having a seriously hard time believing. Where 16:9 displays are concerned, 15% are using a 24" offering, while a staggering 19.32% are using
larger
than that. The majority of users, however, use 1280x960, at 40% of all submissions. This makes no sense to me.
It's not at all surprising to see Windows XP in the lead for OS choice, with 81%, with Vista 32-bit at 15% and 64-bit at 2.65%. Check out the link below for the rest of the results, and just drop your jaw in the fact that some people are running less than 256MB of RAM and others run displays less than 7" in size. Nuts!
<table align="center"><tbody><tr><td>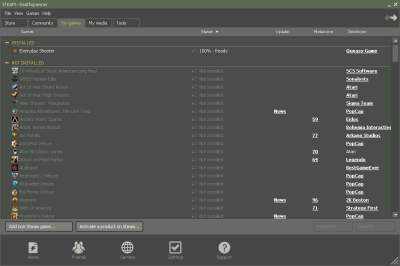 </td></tr></tbody></table>

Every few months we run a hardware survey on Steam. If you participate, the survey collects data about what kinds of computer hardware and system software you're using, and the results get sent to Steam. The survey is incredibly helpful for us as game developers in that it ensures that we're making good decisions about what kinds of technology investments to make, and also gives people a way to compare their own current hardware setup to that of the community as a whole.


Source:
Steam Powered Survey Results
​